At around minute 13, Tali Sharot describes how she and collaborator Dr Ryota Kanai were able to influence the outcome of experiments designed to test optimism bias by applying TMS (transcranial magnetic stimulation). Amazing!
Dr. Tali Sharot at Institute of Cognitive Neuroscience at University College of London
Dr Ryota Kanai
Search for 'transcranial direct current' at ICN
One way to think about this (very generally) is that, in this case, TMS had both a positive and negative impact. This should also serve as cautionary to anyone self-experimenting with tDCS.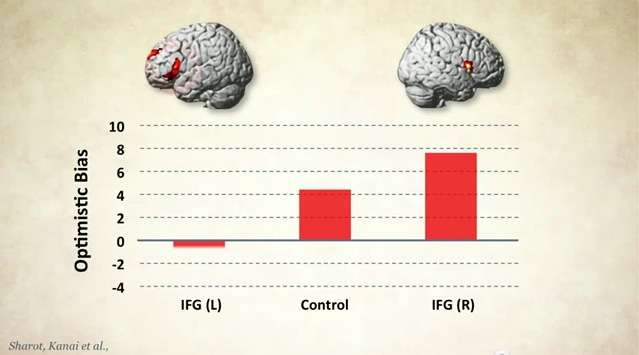 I recently reached out to Dr. Mark Beeman of Northwestern around the subject of testing the efficacy of tDCS especially in the context of DIY. I became aware of Dr. Beeman's work through the new Jonah Lehrer book, 'Imagine'. (I haven't read it actually, but have listened to Lehrer discuss the book at length in numerous podcasts.) Dr. Beeman took the time to respond to my email stating that he was in fact at work on some experiments that use tDCS. About self-experiments, he had this to say…
I'd be hesitant to do too much self-experimentation. Not that I worry about causing direct damage, but brain activity is often a delicate balance, and enhancing some process may have adverse effects on another.
I also heard back from the  Laboratory of Cognition and Neural Stimulation at the University of Pennsylvania. They are who posted the questionnaire. Basically it was just a follow-up email asking more questions. I have yet to correspond with anyone personally and they have so far signed their emails as Research Specialist.