First of all I need to reiterate that I am not a health professional by any means (I'm a retired musician). I was attracted to tDCS when cognitive enhancement effects were first reported back in 2012. Now years later I'm still not convinced there's anything more than placebo going on with tDCS as far as cognitive enhancement goes, though as I've stated elsewhere on the blog, the research seems more conclusive around tDCS being an effective treatment for depression.
Parkinson's is a progressive, debilitating, and at present, incurable disease that robs people of a wide variety of function, but especially movement and speech-related abilities. I have a close friend with Parkinson's so I've been following the related tDCS literature. A recent study suggests that tDCS may prove to be an effective way to help with movement issues.
In Effects of Transcranial Direct Current Stimulation (tDCS) Over the Frontal Polar Area on Motor and Executive Functions in Parkinson's Disease; A Pilot Study researchers at Toyama University Hospital, Japan, found that anodal tDCS improved motor function in patients with Parkinson's. Note that this was a very small study (9 patients, early in their Parkinson's). In this blog post I will attempt to present a DIY version of the study protocol.
To the best of our knowledge, this is the first clinical research reporting that tDCS over the FPA successfully improved the motor and non-motor functions in PD patients. These findings suggest that tDCS over the FPA might be a useful alternative for the treatment of PD patients.
The first thing I noticed was that the montage (where to put the electrodes), "tDCS over the frontal polar area (FPA)" was unusual, therefore not easily verified by looking at other studies. The researchers had previously determined that stimulation of the FPA in healthy subjects improved hand dexterity (Cerebral functional imaging using near-infrared spectroscopy during repeated performances of motor rehabilitation tasks tested on healthy subjects). From the paper (my edits, for brevity and clarity in regards my purpose here)…
The stimulation current was delivered … through a pair of saline-soaked sponge electrodes (5 × 7 cm) over the frontal polar area FPA, and occipital area (OPA).
tDCS was applied for 1 week (5 times/week: Monday–Friday).
A constant current of 1.0 mA was delivered for 900 seconds (15 minutes).
During the tDCS protocol, the patients received traditional physical therapy in the upper extremities (stretching and muscle strength exercise) while sitting in a chair.
According to the 10-20 EEG system (pdf), FPA is defined as Fp1 and Fp2, and OPA is positioned near O1 and O2. Digging into the previous study I determined that they used FPZ to target FPA, and OZ to target OPA.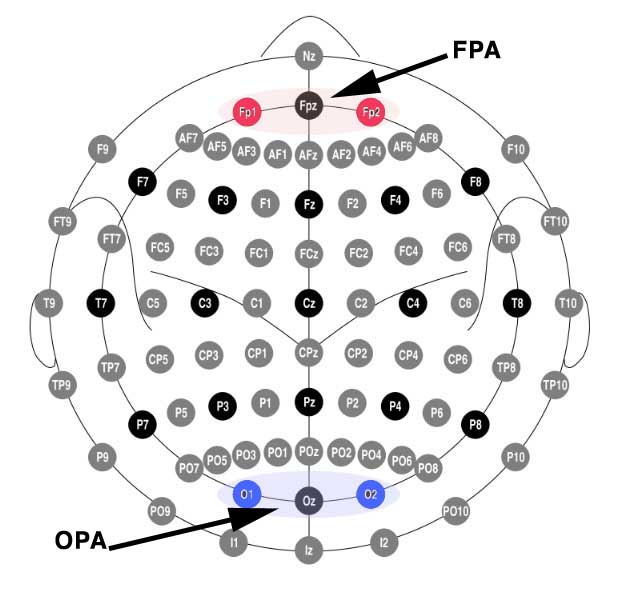 Yes but… what does that look like on a head? Here I'm indicating the electrode targets using the Foc.us placements head model.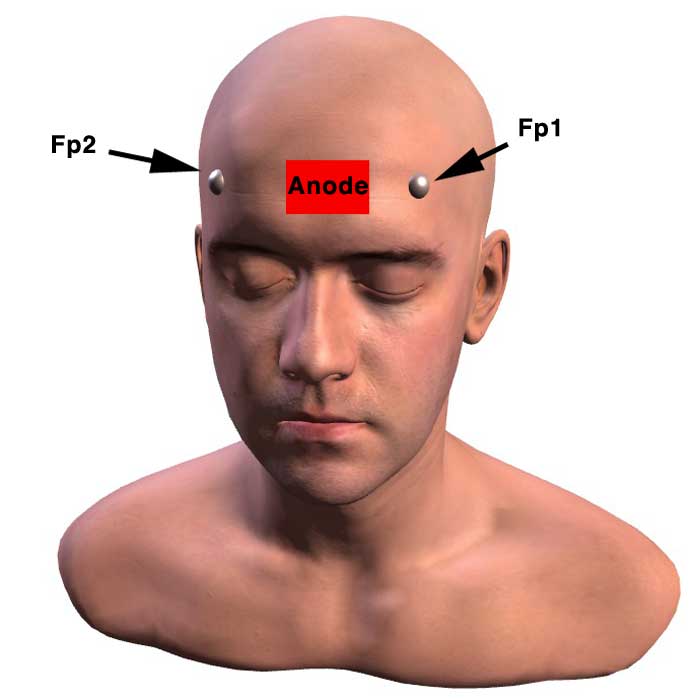 (Above) Anode placed at Fpz to target the frontal polar area (FPA)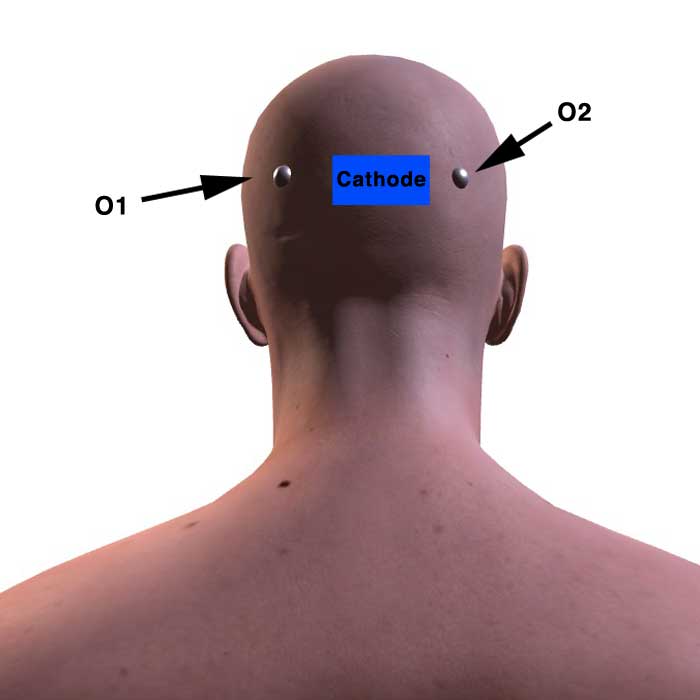 (Above) Cathode placed at Oz to target occipital area (OPA).
So basically, there you have it…
1 mA stimulation, (approx) 2″ x 2″ saline-soaked sponges, for 15 minutes placed at Anode-Fpz and Cathode-Oz, every day for five days. Note that the study participants underwent their usual regimen of physical therapy while the tDCS was being applied.
Am I suggesting you try this? No, I'm not.
I personally do intend to see if this can help my friend whose walking and talking are becoming difficult. For this reason I wanted to be as clear in my understanding of the study as possible.