Tyler Cowen interviews Ed Boyden of MIT in this excellent interview. (Seriously, listen to this interview).
Ed Boyden is a neuroscientist and his lab, Synthetic Neurobiology Group is serving up a steady stream of cutting edge brain research. Especially of interest to DIYtDCS viewers is his involvement in a new form of non-invasive brain stimulation able to reach deep into the brain…
The method, called temporal interference, involves beaming different electric frequencies, too high for neurons to respond to, from electrodes on the skull's surface. The team found that where the currents intersected inside the brain, the frequencies interfered with each other, essentially canceling out all but the difference between them and leaving a low-frequency current that neurons in that location responded to, Dr. Boyden said.

NEW YORK TIMES New Electrical Brain Stimulation Technique Shows Promise in Mice

Paper: Noninvasive Deep Brain Stimulation via Temporally Interfering Electric Fields
But what really caught my ear in this interview was making the connection that Dr. Boyden is working with MIT neuroscientist Li-Huei Tsai. You'll recall Dr. Tsai from earlier posts that discuss her work around treating Alzheimer's using Gamma waves. Gamma Waves Enhance the Brain's Immune System to Treat Mice with Alzheimer's disease It turns out that Boyden and Tsai are working on a commercial venture that will explore this research together. The company is called Cognito Therapeutics.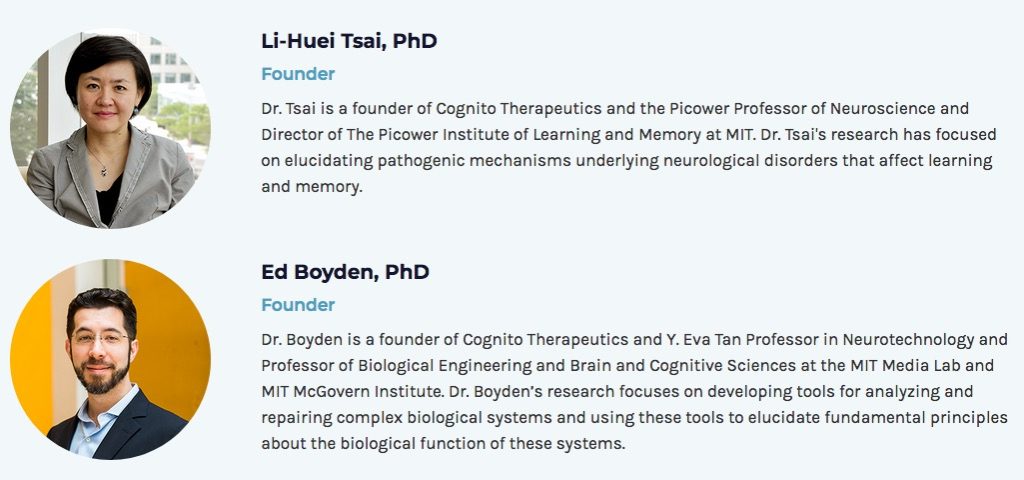 It's still early days for Cognito, though they are recruiting for studies. I'll be following along closely.